See Order Form for prices. Download book sample (866Kb ZIPped PDF)
UNDERSTANDING &
REPAIRING CB RADIOS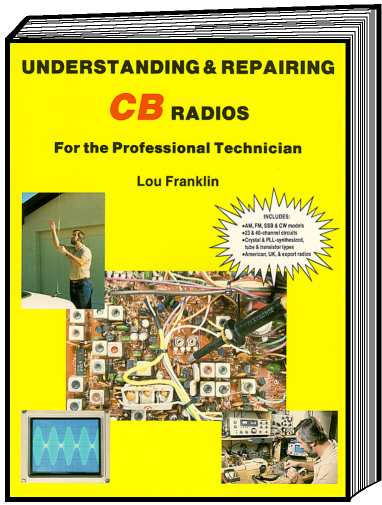 THE BIGGEST, MOST AMBITIOUS CB REPAIR BOOK EVER WRITTEN! OVER 370 PAGES OF DETAILED THEORY & TROUBLESHOOTING INSTRUCTIONS. ILLUSTRATED THROUGHOUT WITH MORE THAN 350 PHOTOS, CHARTS, SCHEMATICS, & OTHER DRAWINGS.
COVERS CB REPAIR OF ALL THESE RADIO TYPES:
· AM, FM, SSB, & CW
· 23- & 40-CHANNEL
· CRYSTAL & PLL-SYNTHESIZED
· TUBE & SOLID-STATE
· AMERICAN, BRITISH, & EXPORT MODELS
ISBN 0-943132-24-X
384 pages with index
8½" x 11" soft cover
NEW spiral binding! Lets you lay book open flat while you work.
We've had thousands of requests from happy readers for a more detailed technical reference of CB repair that would pick up where THE "SCREWDRIVER EXPERT'S" GUIDE leaves off. And so I've created the "ultimate" CB repair book. (Nearly four times bigger too!) It took more than three years, and you won't be disappointed.
If you're a student of electronics, a professional radio technician or retailer, or just someone who takes his radio hobby seriously, this book is for you. This comprehensive teaching manual is designed to help you solve any type of CB repair problem, quickly and profitably. CB interest is on the rise again; combined with the 10-Meter Novice Ham band and the future elimination of all Morse Code license requirements, this means thousands of CB radios will need service and repairs, as well as qualified technicians to do the actual conversions. Get the education you need to cash in on the boom!
You probably already have a knowledge of basic electronics that you got through work experience, school, a correspondence course, or more general books. But you could never seem to relate that knowledge specifically to CB circuits. Look no further! Starting with a detailed discussion of CB technical specifications and measuring equipment, you'll be guided through various troubleshooting techniques and shortcuts. This is followed by a thorough analysis of virtually every type of circuit found in CB radios, from the classic 23-channel tube transceivers to the most modern multimode solid-state models. A big chapter on antennas, their problems and installation tops it off. Details on where to find specific parts, accessories, test equipment, and more information are included throughout the huge text. There's no complicated math or vague theory here; just practical, common CB circuits explained in the simplest possible way.
Here's a small sampling of the fact-filled contents:
CHAPTER 1 — INTRODUCTION TO CB SERVICING
The new Surface Mount technology. CB technical specs defined. Test equipment you'll need. Inexpensive testing aids you can build yourself. Additional information sources. Includes a complete shopping section for CB radios, antennas, parts, accessories, and test equipment including names, addresses, and "800" numbers. Plus much more!
CHAPTER 2 — BASIC TROUBLESHOOTING TECHNIQUES
Block diagrams teach you theory of AM and FM receivers and transmitters. Use of the systematic approach. Testing semiconductors. Signal injection and signal tracing. Intermittents. Interpreting DC biases. Transistor amplifier circuits. Understanding device markings. Plus much more!
CHAPTER 3 — GENERATING THE SIGNAL FREQUENCIES
Crystals and crystal oscillators. Series and parallel resonance. The Colpitts Oscillator. Overtone oscillators. Oscillator troubleshooting. How to order crystals. Walkie-Talkies. The VFO, Crystal and PLL synthesizers. Elements of the PLL system. How digital dividers work. Generating the binary and BCD channel codes. ROM programming. Additional PLL functions. Expanded coverage synthesizer methods. Broadbanding methods. Evolution of the PLL using several examples. PLL alignment procedures and equipment set-up. PLL troubleshooting methods. The MB8719 synthesizer. Includes 23-channel crystal mixing charts covering 90% of all AM CBs; use these to quickly determine dead channels or 10-Meter Ham conversions. Plus much more!
CHAPTER 4 — RECEIVER CIRCUITS
RF and IF Amplifiers. Mixers. Single- vs. dual-conversion methods. IF selectivity methods plus tips on improving them. IF troubleshooting. Detector circuits. ANL circuits. AGC circuits. AGC troubleshooting. The S-Meter circuit. Noise Blankers. NB troubleshooting. FM detector circuits. FM receiver troubleshooting. Squelch circuits. Squelch troubleshooting. Scanning circuits. Selective calling. The audio amplifiers. Audio troubleshooting. LED channel displays and bar/graph displays. Delta Tune circuits. Tone controls. Receiver alignment procedures and equipment set-up. Plus much more!
CHAPTER 5 — TRANSMITTER CIRCUITS
The RF amplifier chain. Oscillators, mixers and buffer stages. Power amplifiers. Classes of amplifier operation. Biasing methods. Vacuum tube power amps. Power doubling methods. Power reduction methods. Coupling and filtering. AM and FM modulation methods. Speech processing. Mikes and mike problems. Limiters and compressors. Measuring and adjusting modulation. RF Power Meter circuit. Modulation meter circuit. SWR Meter circuit. Antenna Warning circuit. Roger Beep Oscillator circuit. CW keying circuit. Selective calling circuit. Transmitter alignment procedures and equipment set-up. Plus much more!
CHAPTER 6 — SINGLE-SIDEBAND CIRCUITS
SSB characteristics, pros and cons. SSB signal generation. The Carrier Oscillator. Carrier and synthesizer offset methods. The speech amplifier. The Balanced Modulator. BM troubleshooting. Sideband selection methods. SSB crystal filters. The mixer. Mixer troubleshooting. Linear RF power amplifiers. Biasing methods. AM/SSB power and modulation control. ALC. Testing the SSB transmitter. SSB reception methods. The Balanced Demodulator. The Product Detector. The Clarifier circuit. Clarifier troubleshooting. IF amplifiers. SSB AGC methods. SSB transceiver alignment procedures and equipment set-up. Plus much more!
CHAPTER 7 — POWER SUPPLIES AND T/R SWITCHING
The mobile DC power supply. Ground loops. Electronic and relay T/R switching circuits. Voltage regulation circuits. The base station AC/DC power supply. The solid-state base supply. Tube and hybrid power supplies. DC-to-DC power supplies. Multimode transceiver power supplies. Includes use of SAMS Fotofacts schematics for step-by-step analysis of several common power circuits. Troubleshooting the power supply. Plus much more!
CHAPTER 8 — ANTENNAS AND TRANSMISSION LINES
Mobile antenna types and mounting hardware. 27 MHz characteristics. The ½-wave antenna. Reactance and tuning. Impedance and radiation resistance. The Standing Wave Ratio (SWR). Coax length vs. SWR. Coax characteristics. Effect of in-line accessories. Coax losses vs. SWR losses. Some practical coax tips. Bandwidth. Gain and directivity. Radiation patterns and field strength. Omni directional antennas. Loading coils. Directional mobile antennas. The Quad and Yagi beam, including dimensions for home construction. The PDL. Antenna matching principles. Tuning and troubleshooting the mobile whip. Magnetic antennas. Co-phasing simplified. Co-phase matching tips. Use of dummy loads in troubleshooting. Matching high-Z verticals. Matching Quad and Yagi beams. Stacking beams for increased gain. Preventing TVI. Matching special CB antenna types. Plus much more!
APPENDIX A — SOLVING NOISE AND INTERFERENCE PROBLEMS
TVI and RFI. Front-end overload. Audio interference. Ignition and other automotive noise problems. Includes reference data and parts suppliers.
APPENDIX B — FCC FREQUENCY CHART
Quick reference 40-Channel frequency listings including tolerances.
INDEX
Thousands of entries covering virtually every related subject. Lets you troubleshoot a specific problem by looking up its symptom here. This is the cheapest education in CB radio servicing you'll ever get! (And most likely the only modern book on the subject you'll ever find.) Completely illustrated throughout. Hundreds of tips to make you money and impress customers with your technical knowledge. SATISFACTION GUARANTEED!
Also available in many public libraries all over the U.S.A!
Check your local library's Card Catalog. Did you know that most public
libraries will automatically purchase books like this whenever a customer
requests it? But we guarantee you'll want your own copy once you see this!
Published by:
CBC INTERNATIONAL · P.O. BOX 30655 · TUCSON AZ 85751 U.S.A.
TEL/FAX: 888-I-FIX-CBs (1-888-434-9227), (520) 298-7980
Electronic Mail:
To send us an email now, click here.