See Order Form for prices.
Schematic Diagram (46K GIF) · Complete Kit Instructions (440 PDF)
For detailed technical background see ALL ABOUT SPEECH PROCESSING.
BOOST YOUR CB RADIO "TALK POWER" & RANGE
Blow Their Ears Off With DYNAMIC SPEECH PROCESSING!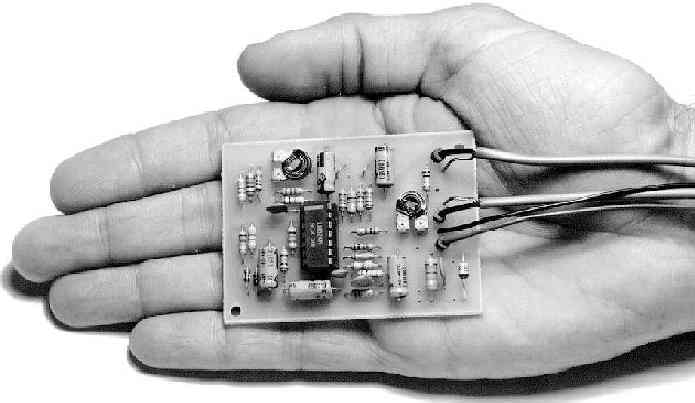 Ever wonder why Rock 'N Roll radio stations always seem so loud? Or why TV commercials seem to be louder than the program itself? The reason is because smart broadcasters use exactly the same modulation processing that's now yours in this simple add-on device. You won't find this circuitry in the average radio; it would cost a lot more. And the sophisticated design requires too many parts to fit inside a power mike.
Your voice only modulates a transmitter about 30% on the average. So during a one-minute transmission, you're really only hitting full RF power output for about 20 seconds; the other 40 seconds are wasted energy. Here's why: almost all of the voice power is concentrated in the consonant sounds (B, K, S, etc.). The vowel sounds (A, E, I, O, U) contain very little average power and can cause high-intensity peaks which easily overmodulate a transmitter, causing channel splatter and "bleedover." Also, voice frequencies below 500 Hz and above 3000 Hz contain little power and don't really improve voice communications. With our DYNAMIC SPEECH PROCESSOR, the unwanted frequencies are reduced while at the same time the high intensity peaks are "clipped off." The 'scope photos show how the DSP effectively raises the average power relative to the peak power. The result is a dramatic increase in perceived loudness by the listener, to about 90% average modulation. Now you're running at your full potential RF power output almost all the time! And the best part is that proper adjustment of the DSP output eliminates overmodulation and channel bleedover while letting your voice punch through LOUD!
FEATURES:

·
6 dB improvement (one S-unit) in AM/SSB audio power with little or no distortion. Improves communications during heavy interference or weak-signal conditions.

·
Prevents overmodulation "bleedover" while maintaining extremely high average modulation. Over 30 dB of dynamic range is compressed to modulation levels averaging 90%, even when you whisper!

·
Harmonic and RC filtering assure clean, problem free audio signal.

·
Powerful IC design is equal to 15 transistors. Adjustable clipping and output controls to match any situation or radio; works with any CB or HAM transceiver. Jumper options to match any stock mike, power mike, high or low impedance.

·
Simple installation. Small size (3" x 2¼") fits easily inside radio. Connects to mike wires. Powered by the radio's own +12 VDC supply. (Only 15 mA current drain.) Includes instructions for separate box mounting if desired.

·
Simple kit construction. Completely illustrated, non-technical instructions. Use soldering iron and common hand tools.
SOLD EITHER AS COMPLETE KIT OR AS PLANS + PC BOARD
Manufactured by:
CBC INTERNATIONAL · P.O. BOX 30655 · TUCSON AZ 85751 U.S.A.
TEL/FAX: 888-I-FIX-CBs (1-888-434-9227), (520) 298-7980
Electronic Mail:
To send us an email now, click here.